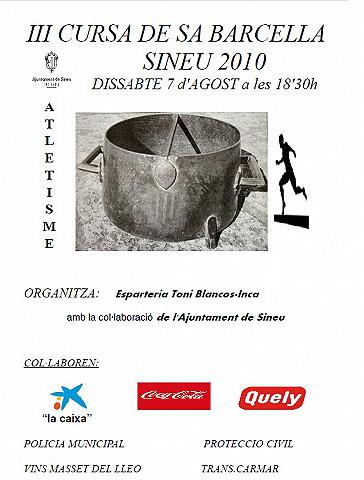 1) L'Esparteria Toni Blancos (Inca), amb la col·laboració de l'Ajuntament de Sineu, organitza la
III Cursa de Sa Barcella , que tindrà lloc el proper dissabte 7 d'agost de 2010 a les 18:30.
2) Circuit urbà a Sineu.
3) L'organització disposarà del Pac i membres de Protecció Civil, però no es farà responsable dels danys morals, materials o físics que puguin sofrir els participants i espectadors durant les curses.
4) Inscripcions a www.elitechip.net, Esparteria Toni Blancos (Inca) T.:971881314 FAX 971880962 mail: toniramis3@hotmail.com i el mateix día de la cursa a Sa Plaça des Mercat. Categories veterans, veteranes i senior:Xip groc= 3€, Xip blanc= 5€ . Resta de categories inscripció gratuita.
5) L'organització es reserva el dret de canviar l'horari i l'ordre de les proves.
6) Obsequi per tots els atletes que arribin a meta.
7) Trofeu pels 3 primers classificats , masculí i femení, de cada categoria. Trofeus no acumulables.
8) En acabar totes les curses hi haura sorteig entre els participants.
9) Coques, galletes Quely i begudes per a tots.
10) Dutxes, vestuaris i aparcament a sa Plaça des mercat.
Warning Elitechip Queries!
Elitechip is not constantly checking Facebook conversations. If you have any questions or queries regarding the competition or other issue, please use the
Contact Form
so we can reply you in the shortest possible time.